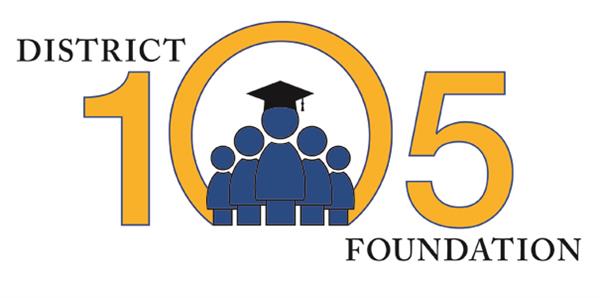 District 105 Foundation
Mission
Empower students to pursue their interests, talents, and dreams.



Goals


1. Strengthen family and community relationships throughout District 105.
2. Award college scholarships to high school seniors in equal numbers from our four elementary school communities.
A majority of the scholarship awards will include a criteria based on financial need.


Board of Directors

Officers

At Large Board Members

D105 Staff Liaisons

Amy Carroll, President


Michelle Luburic, Secretary


Eric Stortz, Treasurer

John Finn

Erin Hall

Bill Holder

Andrea Hornickle

Michelle Luburic

Mike Buttron

Scott Musillami

Connor Carson

Mark Smith

Eric Stortz

Amy Carroll

Dr. Brian Ganan

Ed Hood

Eilidh Hall
Donations

To make a secure online donation to the District 105 Foundation, click on the PayPal DONATE
logo below:

To make a donation by check, make the check payable to DISTRICT 105 FOUNDATION and mail it to:

District 105 Foundation
701 S. Seventh Avenue
LaGrange IL 60525

Thank you for your support!

Announcements
*** The submission deadline for 2022 has passed. STAY TUNED for the announcement of this year's scholarship recipients! Open to former District 105 students who plan to continue post high school education and have need for financial assistance. Applicants must have attended a District 105 elementary school (Spring Avenue, Seventh Avenue, Ideal or Hodgkins) for one year and be a Gurrie Middle School graduate. One scholarship given from each of the four elementary schools; renews for up to four years.